Behind The Madi Messer Collection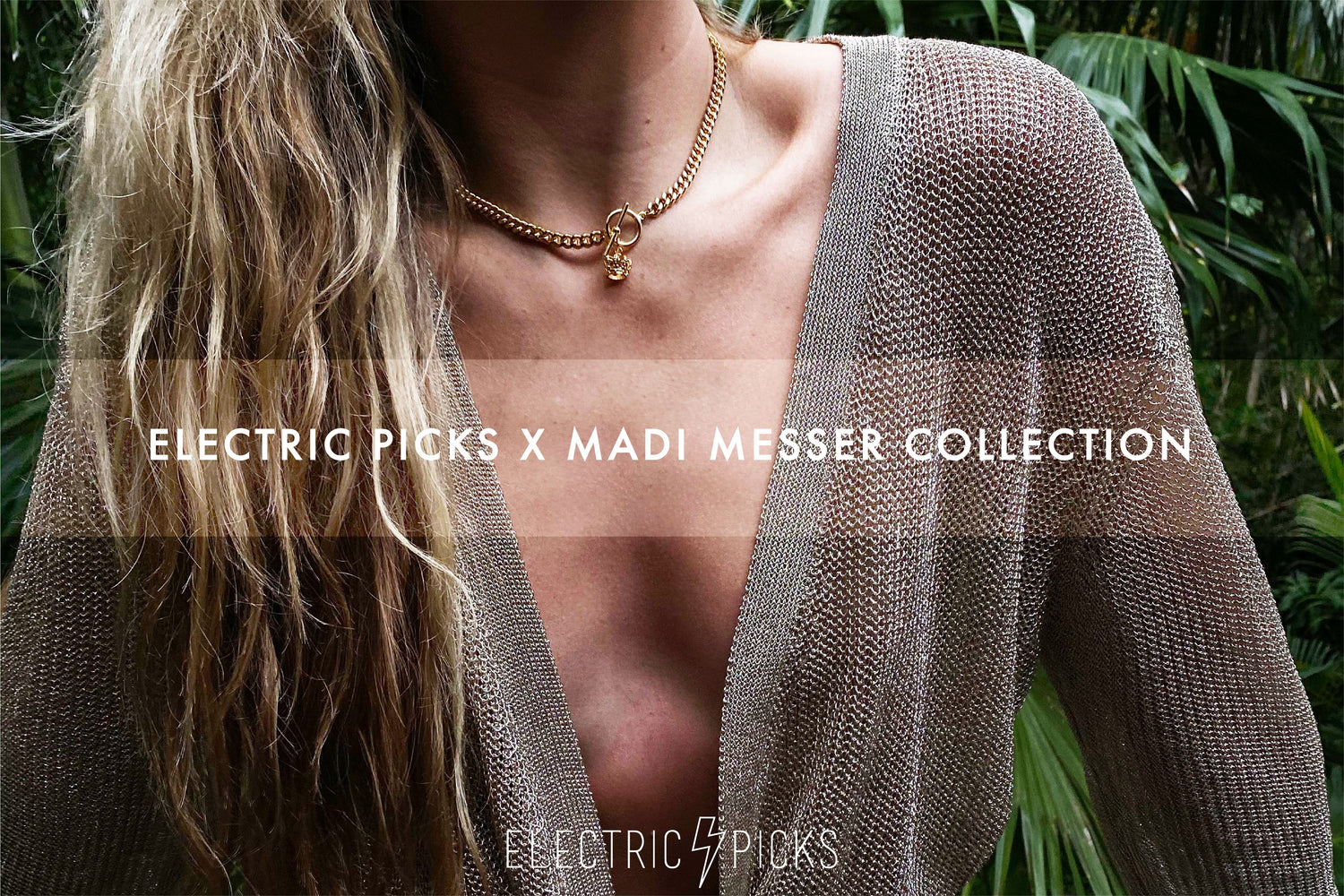 Third time's a charm! Style influencer Madison Messer is here to stay. Madi began her Electric Picks journey with two stellar collaborations that left everyone wanting more, so it was a no-brainer bringing Madi onto the Electric Pick team for good.
Now, we are pumped to introduce the Madi Messer Collection, a permanent fixture with multiple exclusive drops a year. (Yes, this means when pieces sell out they will be restocked. Phew!)
We sat down with the style guru herself to get her take on the jewelry designing process, upcoming trends and all things 90's.
Q: What was the inspiration behind this collection? 
A: It was totally inspired by the 90's!
I am a huge TikTocker. Well, I don't make TikToks, but I watch them religiously! Gen Z is so into going back and digging into stuff that we thought was cool. I've been seeing tons of patterns, bright colors, loose jeans coming back into style. I just feel like everything is taking it back to all things 90's.
I was going back through paparazzi pictures from then and looking at Paris Hilton and Brittany.  They were always in tracksuits. Then when Kim Kardashian launched her velour collection in the fall it gave me such strong Juicy Couture vibes. I knew we had to do a piece that was so reminiscent of Juicy Couture days. That was a huge part of my childhood! So that's where the Heiress Crown Necklace came from. And then the cherries make me think of Lip Smackers. All those pieces were big in forming my style when I was growing up.
I'm turning 30 this year, so this is a big milestone to go back and relive my glory days.
Q: What's different about these pieces?
 A: My unique style! Jewelry is my thing. I play around with it every day; I wear it every day. I feel like I have a very different sense of style that can go from preppy to edgy to dress-up-dress-down in five seconds.
 When I'm creating pieces, I want you to be able to wear it 24/7. Like, what would look cute with a black sports bra at the gym? This cherry style is on a shorter chain that's not going to hit you in the face when you're doing burpees at Barry's.
Q: Tell us more about expanding your collabs into your own collection.  How does that change things?
A: It started out as a one-time collab we had no idea how well it'd sell. 
I had so many ideas that I didn't get to that we just had to keep going. We haven't even begun to go through the surface of everything that I want to do eventually.
 And I think I bring a different and fresh eye to Electric Picks. I'm a little younger so I feel like I keep a pulse on what's younger than me. So, I'm bringing to the table new ideas that they might not necessarily see every day that I'm seeing through friends, my little cousins who have their own cool California style. MJ and Chantel know the jewelry side of it so well that a lot of the times I have this weird vision and I love that they can bring it to life. We balance each other out in that sense.
Q: What's the design process like?
A: I mood-board first with my assistant. We went through and created this huge collage that was sitting in my living room forever. That's how we came to the retro vibe because we were putting all these pictures together and were like, these are all things that used to be in style and are coming back around.
When it comes to lengths and thickness, I like to create pieces that will look good together or layer really well because I'm someone who wears multiple necklaces at one time.
I want these to be things that are super wearable. I want you to be able to wear it to a wedding or with a white t-shirt and jeans."
Q: What's it like to collaborate with the Electric Picks team?
A: Oh my gosh, amazing! I feel like every time I would send then a picture they would already have it on their mood-board. We think on the same page with a lot of things, which is nice. It's so easy!
We both trust each other so much, which is so important when you're working in business with someone.  It's the most effortless easy process. I tell them all the time 'this is your wheelhouse even more than mine. I'll give you the ideas but you tell me what you think". I am very flexible with them too. I give them a lot of room to guide me, which is the perfect working relationship honestly. I'm so grateful for it!
Q: Who are your favorite people to follow on insta?
A: "Hailey Bieber and her stylist! They're like my ultimate. She's like my style icon. Her jewelry style is impeccable.
Q: Favorite trend coming for summer?
A: "I love the three piece bikini set. It's really in. Buying a bikini that comes with a matching sarong, or matching shorts or matching scrunchy. I'm loving that whole vibe." 
Q: What's your most cherished piece of jewelry?
A: Wow that's so hard. I have two answers. If it was Electric Picks it would be one of the pieces from my first collection. That will forever be so special to me, because it was the start of our relationship. Probably the butterflies, it just turned into this huge thing that people relate with me.
And if it's not Electric Picks, I bought myself a Cartier watch two years ago. That was like my first major big-girl investment. It's one of those pieces that I'll have forever. I'll hand it down to my daughter one day!