Behind the Lauren Kay Sims Collection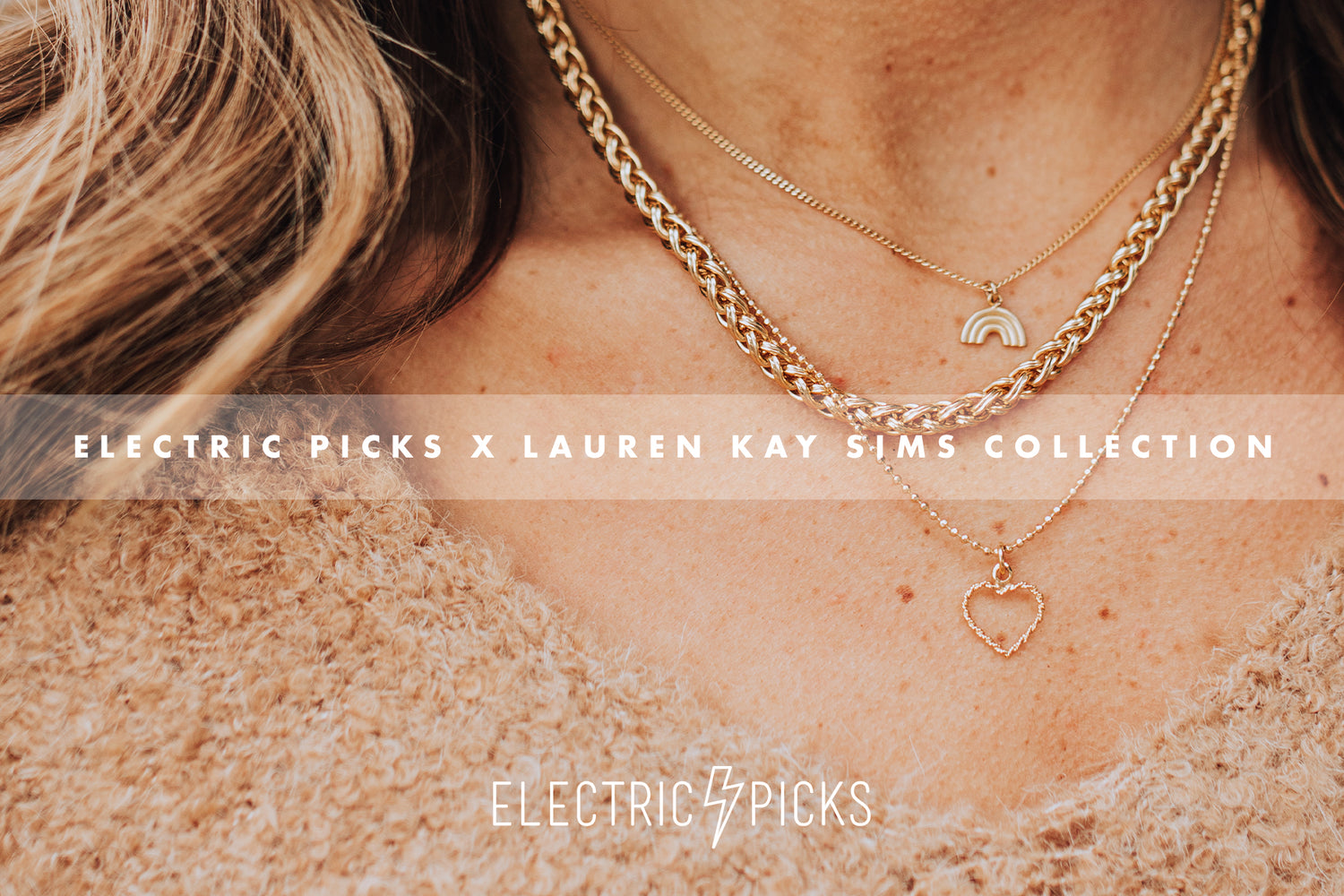 This is Lauren's second collection with Electric Picks! With the success of her first launch, she's back again with even more meaningful pieces. Lauren traveled to Hoboken and worked with the team at Electric Picks to bring her life experiences and memories to the design process. We sat down with the stylish influencer to get her take on the creative process, what the collection means to her, and what mindset she's going into 2022 with.
Q: Tell us a little bit about yourself and what led you to creating a relationship with Electric Picks?
A: I live in Dallas, married to my Michael, best friend in the whole world. I have a 3 year old angel daughter named Shiloh, an Australian labradoodle puppy, and have been an influencer for about 7ish years now! I love fashion and would say my everyday style is pretty simple - I like outfits that can take me from a workout to pre-school pick up to meeting a friend for coffee, but that also make me feel chic + put together at the same time. I fell in love with Electric Picks about two years ago because I love how the jewelry helps elevate ANY outfit - whether it was for a workout or date night. It's jewelry that makes a statement yet jewelry that I never have to take off! It's truly a part of my life now!
Q: What is the inspiration behind this collection?
A: This collection is honestly so near + dear to my heart. It's inspired by the past 2ish years of our lives that have been a really trying season to walk through. We've been battling secondary infertility for about two years and there have been a few things that have really helped me through: my mom, sunrise / sunset walks, and seeing rainbows. I wanted this jewelry collection to symbolize all of those things.
Q: What did the creative process look like working with Team EP?
A: This is my second collection with EP and both times have been SUCH a dream experience. I essentially get to present my vision + ideas to MJ and Chantel...and then their team brings it to life! We reviewed inspiration images, discussed my idea for a rainbow and heart charm, what kind of chain I wanted...they share some creative feedback and then make the magic happen! For this collection I was also so happy to be able to fly to Hoboken to visit the EP team in person, see some samples, try things on...and make this collection come to life!
Q: What is the biggest takeaway you've learned from this experience working with Electric Picks?
A: The importance of not settling for just "okay" and really pushing through until the product is EXACTLY like you want it to be! With this collection, we went through tons of different samples and design changes because I wanted these pieces to be jewelry that I personally was ecstatic to wear, and hoped all of my followers would be too. And at the end of the day, I LOVE how everything turned out!
Q: What piece from the collection has the most meaning to you?
A: Definitely the rainbow necklace. Throughout the past two years, on some of my hardest days with bad news from a doctor or another negative pregnancy test...I would randomly see a rainbow. And everytime I did it was like God was whispering to me "I see you. I'm still here. And I have a plan. You can trust me".
Q: Do you have any advice for someone battling infertility? 
A: I don't necessarily think you need to tell every human in your life about your infertility journey, but I do think it's crucial to have a core group of friends & family you can talk with about it. Infertility feels so isolating already, and it's even harder if you walk through it alone. Let people in. Consider seeing a counselor. Pick 3-5 women you truly trust to confide in, ask for prayer, or just a listening ear.
Q: What's your motto for 2022?
A: My word for 2022 is intentionality. As a business owner, wife, and mom, my mind tends to be in 5 million places at once. This year I am striving to be intentional with every single task + moment I am in. Intentional time with my daughter, intentional about the content I'm sharing on social media...less multi-tasking, slowing down, and being intentional with each moment & everyday task!
Q: What's your favorite fashion trend for spring?
A: I think fresh + clean monochromatic looks will be a big trend this spring which I love - head to toe all white/neutral looks but in a cozy, boho vibe...I can't get enough of it!
Q: Favorite part of your beauty routine?
A: I don't do it often enough but ICE ROLLING my face is always the most relaxing + satisfying step in my beauty routine and helps so much with sculpting and also reducing puffiness!
Shop Lauren's limited edition here!