Behind the Madi Messer Collection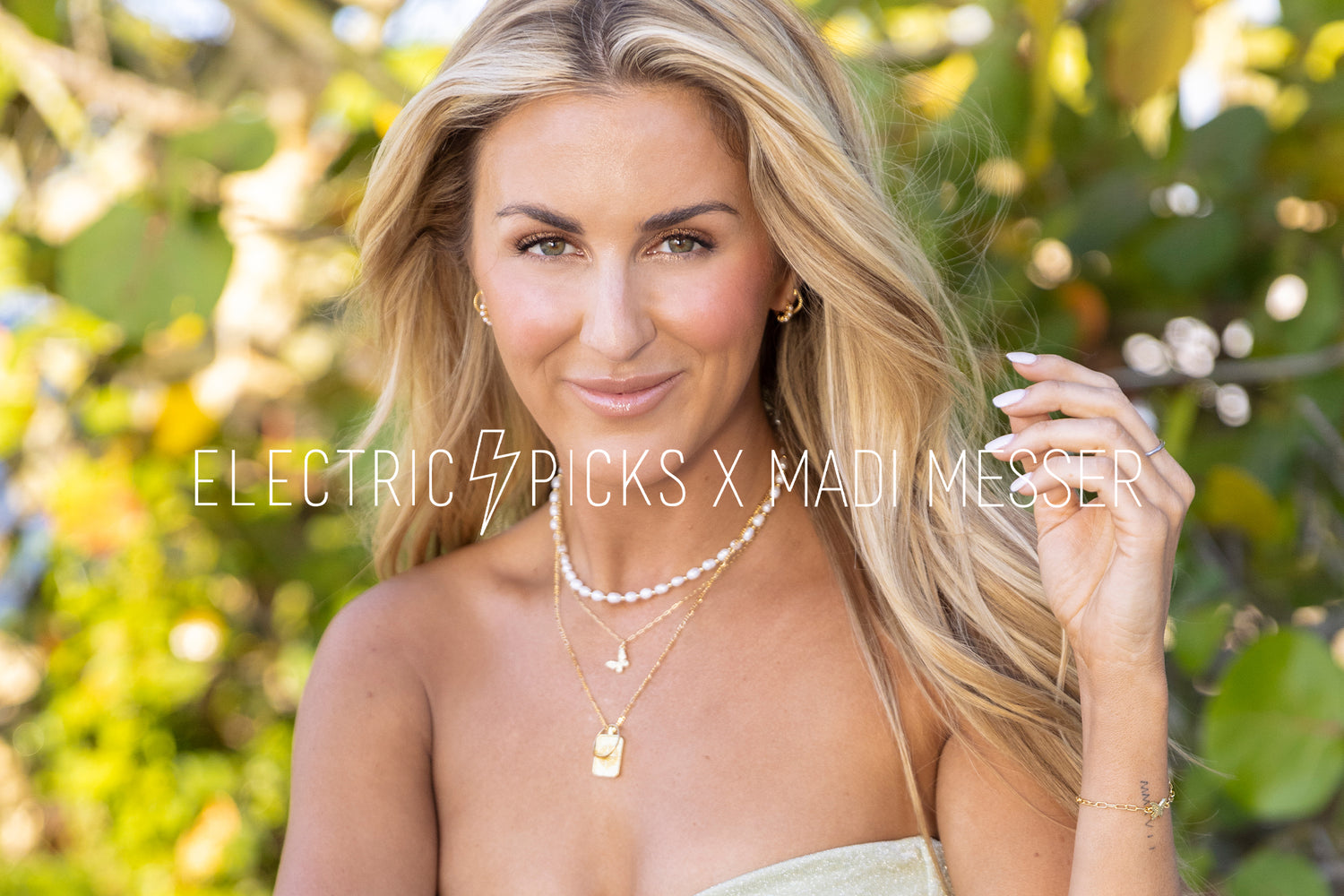 Without fail, Madi Messer delivers a fresh new collection featuring trending pearls, charms, and gold chains. Inspired by the landscapes of Greece and re-watching the movie Mamma Mia, she designed and created a playful curation of on-trend jewels—perfect for all your beachy, summer needs. We sat down with the fashion influencer to get inside her head and learn more about her latest collaboration of new and noteworthy pieces. 🦋💫
Q: Where did the inspiration for this collaboration come from?
A: I re-watched Mamma Mia as we started brainstorming this launch. I knew I wanted it to scream summer, but after seeing the movie again I was fully inspired by Greece.
Q: Favorite part of the design process/creation of the line?
A: I love seeing the samples because it's your first moment these ideas come to life and I get to play around with combinations/chains. I went to the Electric Picks office in Hoboken for our design process this round, which was so special after designing past pieces in quarantine.
Q: What makes you want to keep coming back for more EP collabs? 
A: I feel like EP is family to me at this point!! I work with tons of brands I love, but this is one that I wear daily (seriously I never take my necklaces off)! Jewelry has become a part of my brand now and there's no one else I'd rather work with to bring my followers good quality and affordable pieces. 
Q: If you had to pick, what's your favorite piece in the collection? The piece you're not taking off all summer? 
A: The Evy, it's so different and pearls are super on trend right now.
Q: Who would you LOVE to see rocking your collection?
A: Hailey Bieber or Morgan Stewart! 
Q: What keeps you going when things get challenging? 
A: My family!
Q: Tell us your thought process behind choosing product names. How did you land on the names for this collection? 
A: I usually try to name the pieces after important people or things in my life. This round I named the choker and pendant after my cousins who I adore. I picked a piece that most fit each of their personalities, The Evy and The Lila.
Q: There's SO many good fashion trends we're loving, what is your go-to look lately?
A: I'm into simple and chic this summer. I love lots of neutrals, linen and layered jewelry or cool shoes as the stars. 
Q: You have the best travel content! Got anything big planned for summer? 
A: I'm heading to Croatia at the end of July! It's been a bucket list for me so stay tuned :)
To shop Madi's newest collab, click here.